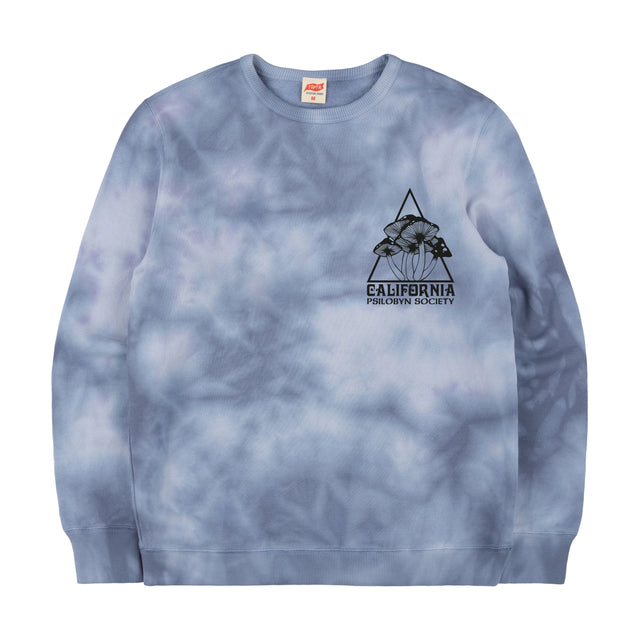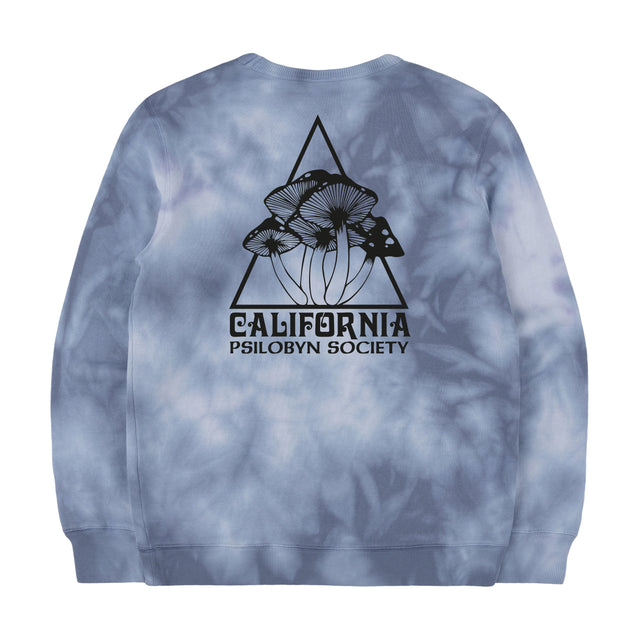 by TSPTR
TSPTR Psilocybin Society Tie Dye Crew Sweat
Pacific Blue tie dye premium weight 100% cotton certified organic TSPTR sweatshirt with water based ink print
At some point during 1972 Neil Young and Phil Lesh of The Grateful Dead formed the California Psilocybin Society, a tongue in cheek club celebrating their love of taking hallucinogenic mushrooms. The Grateful Dead had long been advocates of magic mushrooms, while usually associated with LSD, the band found mushrooms offered a more mellow trip and a better connection to the natural world. Psilocybin mushrooms have been used in indigenous New World cultures in religious, divinatory, or spiritual contexts for thousands of years. A Psilocybe species known to the Aztecs as teōnanācatl (literally "divine mushroom" in Nahuatl language) was reportedly served at the coronation of the Aztec ruler Moctezuma II in 1502. This information allegedly inspired Young to write his seminal track Cortez the Killer.
Ethically made in Portugal.

Product Details
Premium weight slub cotton

jersey
Tie dyed
Flatlocked seams
Set-in sleeves

Rib cuffs and waist

Water based ink print 

Made in Portugal
Sizing
About the Brand
TSPTR (an acronym for Truth, Symmetry, Pleasure, Taste, Recognition) was started Russ Gater and Daniel Savory, formerly of Heritage Research who shared a fascination for American counter culture in the 60's, the Vietnam war, 70's Venice Beach and most importantly the Peanuts comics. Collaborating with artist and friends from he US, Japan and Hong Kong the whimsical, often tongue-in-cheek graphics printed on their iconic t-shirts and sweats set a mood and offer a handwriting truly their own. In their own words "From garment to accessory and old to new, we share the stories we love that are true, soulful, and need to be heard."
Pickup currently unavailable