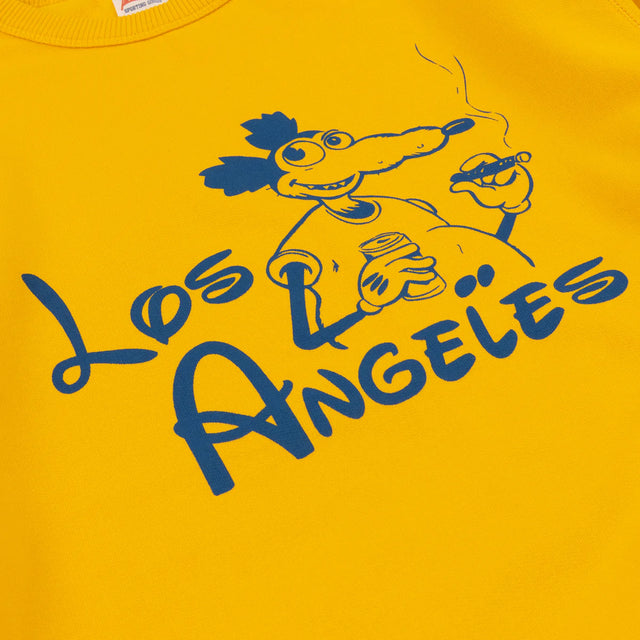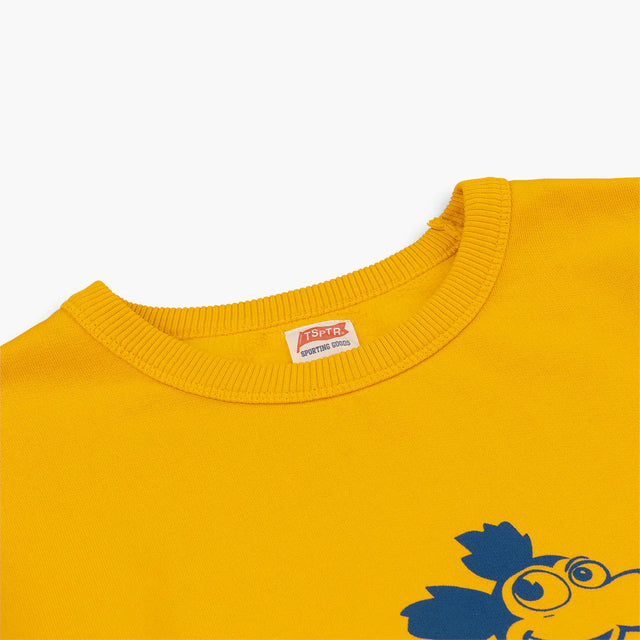 by TSPTR
TSPTR Mickey Rat Crew Sweat
Yellow premium weight 100% cotton certified organic TSPTR sweatshirt with water based ink print
He started as a t-shirt design. Nothing but a crude rip-off of Mickey Mouse, not so close in design to Disney's character that he'd get in trouble, but close enough to be obvious. His name was Mickey Rat.

The Mickey Rat t-shirt sold a lot of cotton at the dawn of the '70s. Sales were so good that when Chester Crill, member of the psychedelic rock band Kaleidoscope, suggested to rat creator Robert Armstrong that Mickey Rat would be great in a comic strip, the idea was instantly embraced. And so in 1971, Mickey Rat appeared in L.A. Comix #1, in a seven-page story appropriately titled "The King of Rotten Stuff."
Ethically made in Portugal.

Product Details
Premium weight slub cotton

jersey
Flatlocked seams
Set-in sleeves

Rib cuffs and waist

Water based ink print 

Made in Portugal
Sizing
About the Brand
TSPTR (an acronym for Truth, Symmetry, Pleasure, Taste, Recognition) was started Russ Gater and Daniel Savory, formerly of Heritage Research who shared a fascination for American counter culture in the 60's, the Vietnam war, 70's Venice Beach and most importantly the Peanuts comics. Collaborating with artist and friends from he US, Japan and Hong Kong the whimsical, often tongue-in-cheek graphics printed on their iconic t-shirts and sweats set a mood and offer a handwriting truly their own. In their own words "From garment to accessory and old to new, we share the stories we love that are true, soulful, and need to be heard."
Pickup currently unavailable